How To Be A Happy Lesbian:
A Coming Out Guide
Chapter 5 Sample Page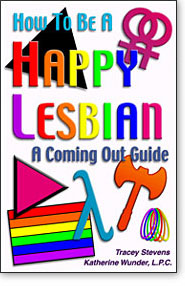 Romance and the art of making lesbian love


The reason I decided to write this chapter is because I've had multitudes of discussions with all kinds of people whose relationships have broken up because of lack or romance, or because they were dissatisfied with their sex lives. Most people who are having relationship troubles stemming from sex seem to truly want to make their partners happy, but are too embarrassed to talk about it to anyone. Many women complain that their partners just don't know what to do, and some of these women have very little knowledge of their own bodies and what it takes to please themselves.



Now, I'm not saying that everyone should go off and masturbate for days on end, but it does help to know yourself. Believe it or not, there are some women who have never masturbated or had an orgasm! I know this for a fact, because I've been with two such women myself.



My first partner had never been with anyone, and she knew nothing about masturbation. We brought each other out at sixteen. My second partner had been married to a man for a while, and then was with a woman for seven years. She'd been with two people for extended periods of time and had no idea about what a clitoris or a G spot was. She'd never had an orgasm in her entire life! I thought I could certainly remedy that, but for the longest time she would not allow me to give her a clitoral orgasm. She just could not handle the intense feelings of arousal. After a year together, and with her permission, I finally held her down one night, and, believe me, the house practically rocked when she reached orgasm. She was amazed and a whole lot happier being totally satisfied inside and out.



Since this is primarily a coming out book, I thought it would be a good idea to include a few lessons on how to make love to a woman. If you don't know what areola, mons pubis, prepuce, or labia majora mean then you may want to go back and review Chapter 2. I will be using these very important words to explain how to give your partner an orgasm, and it would be good for you to know what I am talking about. There are many ways to make love to a woman, but I just list some basic techniques that I know for sure work. It's up to you to develop your own style, and this explicit step-by-step chapter will help get you started..
.
HOW TO BE A HAPPY LESBIAN:
A COMING OUT GUIDE
©2010 by Amazing Dreams Publishing.
All rights reserved.