Coming Out Advice For Lesbians,
Bisexual and Questioning Women
Table of Contents



Coming Out Advice For
Lesbians, Bisexual and Questioning Women
Chapter 4 Sample Page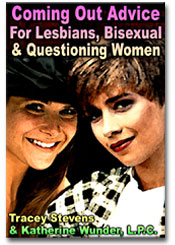 Coming Out and Men

Question: I just can not be a lesbian! Is it easier to just get married to a guy?

This is your life. If you run away from it, have the kids, and the marriage, then you will be fenced in by that white picket fence for at least 18 years. It's up to you, but if you truly are lesbian, you will never be happy with this decision.



If you are not happy, then no one around you will be really happy either. You will drag yourself, your husband, your kids, your in-laws, and your family through your unhappiness for the rest of your life, or until you decide to be honest with yourself about who you are. Essentially, you are scared of who you are, and because of this fear of not wanting to face your true self, you are going to take every person you know and love down a very unhappy road with you.



If you feel you are bisexual, or lesbian, then you may want to give yourself a bit of time before you get married. There are plenty of our members who have driven down the marriage road, only to have to do a complete U-Turn and haul-butt the other way.



To me, it's way better to know for sure that you are happy with what you are mapping out for your life, before putting yourself into a position where you may have a breakdown on the side of the road later.



One thing I must say is that I do not know how many women I have spoken with over the years who have said that they wished they'd never married their husbands, wish they'd been braver and come out sooner, wish they'd not waited so long, and wished they had not have wasted half of their lives.



I think God wants you to be happy, and you are the only one who can do this for yourself. If you are happy living YOUR HUSBAND'S dream of YOUR own happiness, then so be it.



My advice to you: Don't do anything for at least 30 days. Figure out what YOU want in YOUR life. Do you want to be happy or miserable? Do you want to raise kids in an environment where their mother hates her own life? Do you want to hate sex with your husband and make him feel like crap on a stick every time you make love with him? I've seen women do this to their husbands and their kids over and over again, and the choice is not good for ANYONE involved.
I believe if you are lesbian, the only choice is whether or not you are going to lie to yourself and everyone else about who you are. Being gay isn't even in the top ten commandments, but being a liar sure is. The choice of being brave and standing in your own power is your choice--no one else's.



Good luck to you with whatever you decide, but please, Please, PLEASE give yourself some time...
Coming Out Advice For Lesbians, Bisexual and Questioning Women
©2010 by Amazing Dreams Publishing.
All rights reserved.


To purchase
"Coming Out Advice For
Lesbians, Bisexual and Questioning Women"
BEST VALUE:
To see our Total Support Packge which includes our book
"Coming Out Advice For Lesbians, Bisexual and Questioning Women"
plus 3 other Bonus Coming Out Books,
and our 24/7 confidential support group
Please click the following link:



Coming Out Support Package
For Lesbians, Bi and Questioning Women