Coming Out Advice For Lesbians,
Bisexual and Questioning Women
Table of Contents


Coming Out Advice For
Lesbians, Bisexual and Questioning Women
Chapter 5 Sample Page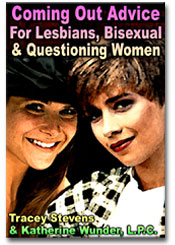 Coming Out to Family and Friends


For anyone who is having trouble
coming out to her family:


It is so hard to come out no matter what age you are, and change can be very painful. I believe if you are truly lesbian or bi, that you can not change your sexuality and choose to be straight--you can choose to be untruthful about it. If you are untruthful, you may be miserable. If you are miserable, everyone around you will be affected. This is your life, and you are the only one who can make yourself happy.



One thing to keep in mind is that your family and friends may be in a bit in shock. They will need time to mourn the person they thought you were. They may have had visions of you with a man for the rest of your life--happily heterosexual and accepted by society.



It takes years for some of us to accept who we are, so it's really not surprising to think that other people may need a bit of time to accept your sexuality too. One thing to realize is that more than likely not everyone is going to accept you being lesbian or bisexual.



Everyone has their own issues with this, and what I've found is that most times when people have a problem with me, they are unsure of their own sexuality. Like "WHOA! If So-And-So might be lesbian, what about me????" sort of thing. It sucks, but this is just how it is because we are living in a world where it is still just fine and dandy to openly discriminate against LGBT people.



Our "How To Be A Happy Lesbian: A Coming Out Guide" has information that will help you cope with coming out. I would read the Coming Out Guide, get support in the SFLCO Group as much as you need, and if your coming out gets too hard, you may have to find a local support group in your area so that you can talk directly to people who understand what you are going through. You can sometimes find these types of groups in weekly newspapers or LGBT papers.



There is also PFLAG who may be able to either help you our point out a good support group. On the PFLAG website www.pflag.org, just look for the link Chapter Information and Resources, and you can find a chapter close to your area.



I will say that I've known many women who have stuffed their sexuality in the closet in order to raise their kids, make their families comfortable and happy, make their church comfortable and happy, or whoever outside themselves they need to make happy. The question is what about what makes YOU happy? Life is too short to be miserable for one moment.



Anyway, I am glad you found the SFLCO group. There are many women in this group who are going through very similar things, so please know that you are not alone. We are here for each other, through the good and the bad times, so just post to the group whenever you need to talk about what is going on, or just need to make contact with people who are going through similar trials in their own lives...
Coming Out Advice For Lesbians, Bisexual and Questioning Women
©2010 by Amazing Dreams Publishing.
All rights reserved.


To purchase
"Coming Out Advice For
Lesbians, Bisexual and Questioning Women"
BEST VALUE:
To see our Total Support Packge which includes our book
"Coming Out Advice For Lesbians, Bisexual and Questioning Women"
plus 3 other Bonus Coming Out Books,
and our 24/7 confidential support group
Please click the following link:



Coming Out Support Package
For Lesbians, Bi and Questioning Women