How To Be A Happy Lesbian:
A Coming Out Guide
Chapter 1 Sample Page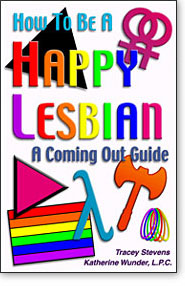 What does it mean to be a lesbian today?


Lesbianism and the connection of heart, mind, body, and sou

Being lesbian can mean many things, but basically it's this: women who love, cherish, and have primary relationships with other women. Now I don't mean we are like innocent friends who have back-rubbin' slumber parties, although many lesbian relationships start out this way, including my first one when I was sixteen. This mirrored love is not a choice but a true way of living which comes from deep within us. This is why I term it "a connection of the body, heart, mind, and soul." Some argue that it's environmental, some say biological, and some say it is the soul's choice. I think that it is a combination of all these things, and that we're predestined to be exactly how we are. I totally believe that I was born this way.



I remember standing in a playpen and being incredibly attracted to Marilyn on "The Munsters" when I was still in training pants. Shows how old I am, right? And some of you may even be thinking "Who is Marilyn and what's "The Munsters"?" If you don't know, it just means I was born in the '60s, and believe me, I'm real happy with how old I am now, because I would never want to go back. I've lived through some crazy stuff and learned enough hard lessons to be able to write it all down, in true hopes that you'll be able to learn a few things that will help you on your path.



All those years ago my soul was first attracted to a nice-looking woman on an old black-and-white console TV, and my heart followed right along. My orientation has never changed, but my mind didn't put a label on it. "Me, queer? No way. I just admire my female friends because I don't have a big sister," I'd say whenever that little question of my sexuality popped into my mind. Sure, I dated guys for a while when I was in my early teens, though I never felt anything for them but friendship. It wasn't until I fell totally and unmistakably in love with my first girlfriend that I really understood myself, and the heart, mind, soul, body connection. My heart was racing, my soul was soaring, my body would become incredibly aroused whenever she touched me, and I sure couldn't stop thinking about her. When I figured out what all those signs meant, it was the happiest day of my life. But that is not always the case when women realize they are lesbian...
HOW TO BE A HAPPY LESBIAN:
A COMING OUT GUIDE
©2010 by Amazing Dreams Publishing.
All rights reserved.