Coming Out Advice For Lesbians,
Bisexual and Questioning Women
Table of Contents


Coming Out Advice For
Lesbians, Bisexual and Questioning Women
Chapter 2 Sample Page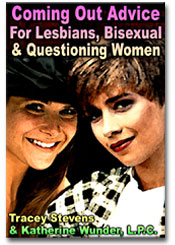 Coming Out and Fear Issues

Question: Why do I hate the words we are called?


The word Dyke is a hard one to get a grip on. I'm OK with saying "Yeah, I'm a lesbo, queer, muff-diving bull-dyke!" while joking around with a bunch of lesbians, but it sounds weird when a straight person calls me any of those lovely names.



I had someone review "How To Be A Happy Lesbian: A Coming Out Guide" who mentioned this:
FOUR OUT OF FOUR BOOKENDS

Four bookends is a must read book, featuring positive lesbian imaging—a keeper

If you know a young gal who has decided to follow in Sappho's footsteps, hand her this book. It is an excellent resource and is sure to answer any question a newly realized lesbian might have. Written in a systematic, this-is-the-way-I-do-it format, this humorous 'encyclopedia' of lesbian lore is just a good read even for those in long-term relationships. Discussing topics such as gay symbols, gay rights, STDs, famous and not-so-famous lesbians, and movies that shouldn't be missed, this guide will help young women feel good about themselves and proud of who they are. It provides a solid framework on which to build self-esteem. I found the use of some words, such as the word homo, alarming at first but came to understand that the authors want our community to own the words others use against us so we can remain undaunted by the slurs. Not necessarily a bad idea.

Valarie Massie Watersun
The Wishing Well Magazine
Words are words are words. Lots of them sound funny to me. The only thing with women using the word Gay is that for years our own community has said "Gay men and Lesbians." Also, everywhere you look it is LGBT, which I always list it as LGBT--ladies first! I ran into some politically correct issues as far as lesbian vs gay is concerned during my life, so I always refer to myself as just "A big ol' Lez!" That usually gets some attention and takes the sting out of the word lesbian
Question: I'm not comfortable with the wordswe are labeled with. Is that normal?



Thought I'd pop in here on this discussion concerning words used to describe us, commonly referred to as labels.



For years, it's been Gay Men and Lesbians, not sure why, but when I was writing the Coming Out Guide, I figured I should do what is politically right for now, so I mostly used the word Lesbian when describing females who have loving relationships with females.



To me, every word is really weird anyway--if you really think about it. I just embraced the words people label us with, because I found that once I did, it totally takes the power out the words used to describe us.



I just said in the mirror over and over: "I am a big lez, bulldyke, butch, queer, homosensual, vagitarian, and I am damn proud to know who I am and accept myself!" This takes the power out of anyone calling me anything because if I can accept it in myself, then so what if someone else says it to me?



What you are going through is called "Normal." For some of us, coming out and accepting who we are happens when we are really young. I always knew I was different, fell for my gym teacher when I was 8, then two fellow horse riding women at 14, and had my first real GF at 15, so I sprung out of the closet early.



For others, it is not unusual to come out later in life. I met a woman preacher a few years back who came out in her seventies!! At least you are younger than that and have years to figure it out and have fun doing it.



Again, I'm really glad you found our support group. There are lots of women in here going through similar situations, so you are no longer alone.



If you want to know more about the culture of being a Big lez, bulldyke, butch, queer, homosensual, vagitarian, be sure to check out the Coming Out Guide.



There are symbols in there and what they mean, and role models you may not know about, along with over a years' worth of research in Lesbian/Gay/Queer/Homosensual Culture...
Coming Out Advice For Lesbians, Bisexual and Questioning Women
©2010 by Amazing Dreams Publishing.
All rights reserved.


To purchase
"Coming Out Advice For
Lesbians, Bisexual and Questioning Women"
BEST VALUE:
To see our Total Support Packge which includes our book
"Coming Out Advice For Lesbians, Bisexual and Questioning Women"
plus 3 other Bonus Coming Out Books,
and our 24/7 confidential support group
Please click the following link:



Coming Out Support Package
For Lesbians, Bi and Questioning Women