FEATURED NEWS ARTICLES:


Artist creates works to combat prejudice
By KENNETH A. HARRIS
Tampa Tribune Staff Writer


Tracey Stevens believes all men are created equal. When Stevens tries to express her beliefs, she creates either positive or negative reactions --nothing In between.



The reactions to her work "Created Equal" run similarly from one extreme to the other.
"Oh, that's gross," a teen-age girl screamed Sunday after a quick look at the piece.



Stevens was one of more than 100 artists who displayed works Sunday afternoon at the city's Central Park Art Festival. The event, sponsored by Sun Bank, featured magic and live music as well as works of art.



Outdoor vendors lined the downtown sidewalks to provide festival-goers with a variety of festive foods. Artists from around the country--skilled In watercolor, kinetic sculpture and pottery --displayed and sold their crafts.



Appearing In her first exhibit, Stevens was featured as a mixed media artist, combining sculpture, painting and other art forms to create a three-dimensional Image.



One such work Is titled "Created Equal." Stevens turns plaster, cloth and watercolor Into a call for racial and cultural harmony. Pictured are two Infants, one black and the other white. The babies are Inverted, reaching out to each other while floating in space. Each infant is tied to Its umbilical cord. Stars, a mother planet and the Earth fill the background.



"The umbilical cord turns Into light, and, to me, that's a symbol of The Creator," Stevens explained. "They have an aura around them; that's the energy In all of us."



Stevens works as a graphic design manager for a local college. She said viewers had strong reactions to the "Created Equal" artwork, the title of which Is mentioned In works by America's forefathers, speeches by Dr. Martin Luther King and In the Bible.



She calls the work a litmus test for viewers' racial attitudes.



"The ones that are real prejudiced, you can tell. They'll look at It and leave," Stevens said. "They either love It or leave It."



Two other works--"The Earth Mother" and "World Bridge" --also express Stevens' hope for racial and cultural equality. None of the three works was for sale.



"I can't sell these paintings because of their message," Stevens said. "I don't care If I don't make money on these works, as long as other people see them."


Stevens combines spirituality,
environmentalism in artwork
By KIMBERLY LEACH
Staff writer Winter Haven News Chief


At a time when showing concern about the environment is in fashion, artist and graphics technician Tracey Stevens is way ahead of the game.



A woman who began drawing murals on the hallway walls of her home as a child, Stevens creates three-dimensional paintings that deal with our home base of earth, at the same time incorporating themes promoting the idea of equality between men.



"I'd like people to realize we need to get by all this garbage of racism and sexism. Things are really happening with the earth that we need to pay attention to or we won't have a place to live," said Stevens from her home recently.



A graphics designer at a local college, Stevens' work has been displayed at art shows around the county. Three of her most notable pieces --"Earth Mother," "Created Equal" and "World Bridge"--are large 3-D works that attract much attention from viewers. Reactions to her work don't fall into a gray area.



Some people relate to it in a positive way, and she's even received fan mail. At times, others will let their negative feelings about her images be known. However, she said that those who aren't into her messages will most often not question her about her work but simply walk away. Stevens said a few have misinterpreted her work as sacrilegious. But just when she gets negative comments, someone will arrive to praise her efforts.



'It's most incredible," she noted. "Every time something negative comes along, The Creator sends a positive person." She recalled an elderly woman at an art show in Bartow who didn't like "Earth Mother." Moments later, a class of young students stopped to view her work. They were drawn to "Created Equal," a work showing a white infant and a black infant floating in space connected by one umbilical cord.



"The teacher asked them what they thought it meant and the kids got it. 'It means we're the same,' they said. I feel they walked away with a visual memory of this concept," Stevens said, with obvious delight.



If one were to sum up Stevens' philosophy demonstrated in her work, it would be this quote — "There's one Creator, no matter what you call her or him; one Earth, no matter what you term it; and we're one people," she said.



More than four years ago, Stevens attended a meeting in Orlando to learn meditation. It was while meditating that she received her first 3-D "vision" that would later become the basis for her art.



"Now I can't stop the images," she added. Sometimes coming to her in meditation and sometimes in dreams, Stevens said she can usually remember the visions well enough to sit down and sketch them. Just in case, she keeps a pad and pencil by her bed.



While it's been a good deal of time since the ideas were in place, it took Stevens much longer to learn how to construct her images concretely. Made mostly of cloth, the 3-D structures are hardened with plaster and a plastic-like wax and then painted. Her larger 3-D works were all constructed in the past year and a half with Stevens drawing greatly upon her education in engineering.



Stevens has received invitations from galleries in Miami, Texas and California but hasn't been able to afford the costs involved in transportation.


Stevens is working on a piece titled "True Nature." It will portray three 3-D faces, each covered with paintings of elements of nature such as clouds and the sky.



"The message is that we are all related on a larger scale, so we need to take care of the earth. Our bodies are part of the earth and the basis of each cell is energy," the artist said.



She is also planning a work that will demonstrate the universality of time. A timeline beginning with white light, a symbol of The Creator, will follow man's evolution and return to white light. This will be covered with a screen that will represent "the web of time," Stevens said. Saying she's always been very "spiritual" Stevens said spirituality doesn't have to conflict with Christianity.



"Everybody is at their own level, and they reflect where they're at. I've always thought whatever anybody believes holds true for them," she said.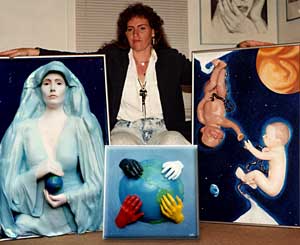 Tracey shown with "The Earth Mother," "World Bridge" and "Created Equal."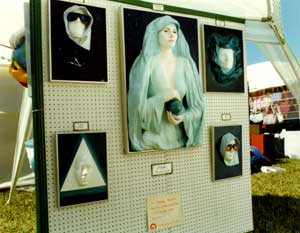 First show: artwork featured in Tampa Tribune.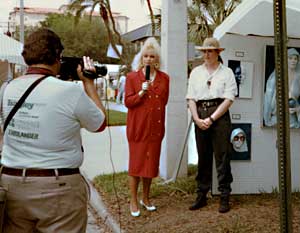 Second show: artwork featured on local TV.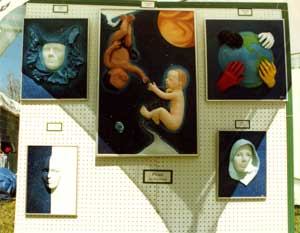 Third show: artwork featured on Public Radio.
Interview with Dorothy Abbot WMNF, 88.3 Tampa.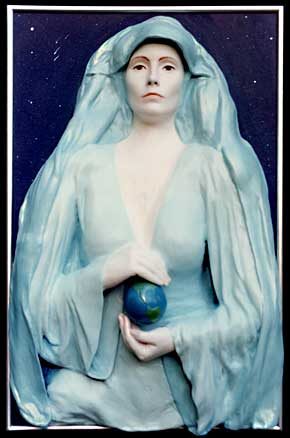 Fourth show: artwork "The Earth Mother" featured on front page of Winter Haven News Chief.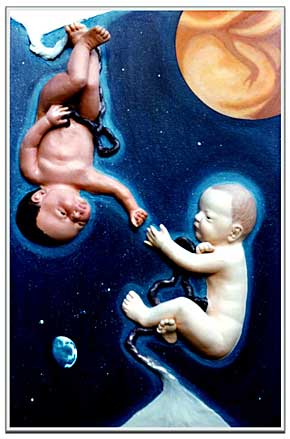 Fourth show: artwork "Created Equal" featured on front page of Winter Haven News Chief.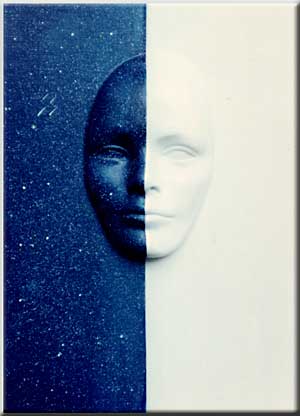 Artwork shown: "We Are the Stars."


Goddess Ecards Page



Back to the Main Ecard Page