Canadian artist Jonathon Earl Bowser was born in 1962. He began drawing obsessively at age 8, painting at age 18, and graduated (on the President's Honor Roll) from the Alberta College of Art in 1984. His limited-edition prints and collector's plates are now represented by many galleries internationally, and his original paintings are in public and private collections across North America, Europe, and Asia - including the government collections of China and Taiwan. Jonathon describes his unique figurative-landscape paintings as Mythic Naturalism - images of the mysterious poetry of which the natural world is made..



About Mythic Naturalism
These paintings are dreamscapes of the First Ancestors, the omnimorphic parents from whom all forms of the cosmos have inherited their form; they are images of a sometimes beautiful and sometimes monstrous romance...of Hope and Despair, of Desire and Fear, of Beginnings and Endings... Jonathon Earl Bowser.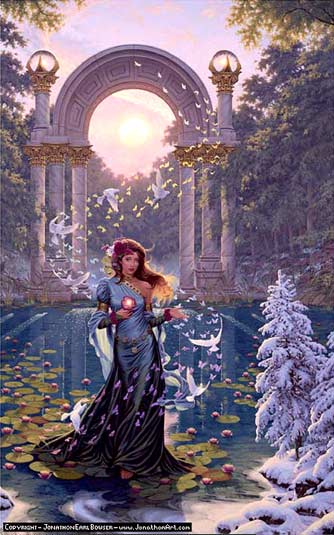 The Awakening
Webster Galleries Editions has published 17 successful limited-edition lithographs of Jonathon's landscape work; many editions of these editions have now sold out. Mythic Publishing published the fine-art poster, Song of the Hummingbird Muses. His series of paintings about Native-American Earth and Sky Mothers was published and distributed world-wide by The Bradford Exchange - the world's largest trading center for collector's plates. Eureka Publishing published 12 limited-editions from his Mythic Naturalism collection. And now the complete collection of Jonathon's most personal and evocative work is available in a beautiful new series of amazingly accurate Limited-Edition Giclees - the most beautiful fine-art reproductions in the world! Jonathon's beautiful Goddess prints are available as fine-art reproductions with prices starting at $19.95. An Artist-signed 12-page catalog is also available for only $10.00.To order reproductions of Jonahton's beautiful work, or his 12-page catalog, please visit his website:


http://www.jonathonart.com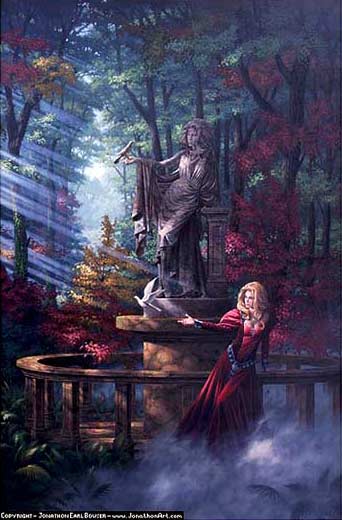 Invariance and Enlightenment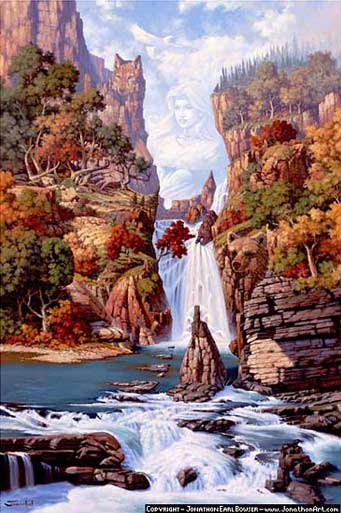 Phantom of the Falls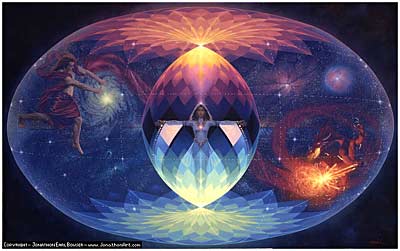 Eternity



Visit Jonathon's Website



Jonathon's Ecards