A reviewer for the Atlanta Journal Constitution once said, "Jaskevich is a carver of dreams in alabaster." Jane's mythical figures borrow elements from ancient cultures. She transforms big and bulky stones into curvy, smooth and ethereal figures. Some of her larger pieces are created by combining multiple stones. Her work can be seen at
www.atlantasculpture.com
.



A large body of her work portrays women. Some are alone, some wear masks and others are paired with animals. Like many stone carvers her first subjects were animals. Then she carved female figures because she could look in the mirror for anatomical help. Later Jane combined the two subjects. Her women had rabbits and birds on their heads. They wore fish. Owls emerged from their hair. The animals became spiritual symbols of the female form. Recently she has gone full circle. A new sculpture shows a hare looking at his watch. It is entitled "I'm Late, I'm Late." Now her fanciful animals hold symbolic objects.


Jaskevich has always been interested in the spiritual and mystical side of mankind. Her inspiration to become a sculptor happened when her art professor told the class to create a vessel and give a lecture about it. Jane, taking a clay class at the time, made a pinch pot that resembled a female. The figure was hollow. When it came time for her to talk about her "vessel" Jane said, "This is a vessel that holds the spirit." Hundreds of sculptures have followed that vessel.



Jaskevich is represented by River Gallery in Chattanooga; Hanson Gallery, Knoxville; Clayton Gallery, Tampa; The Art Cellar in Banner Elk, NC; Steinway Gallery in Chapel Hill, NC. and www.postpicasso.com.



Her public collections include a garden sculpture in a Michigan church and three sculptures for Nationsbank Headquarters in Tampa. Jane has two stone sculptures in the permanent collection of the Polk Museum of Art in Lakeland, Florida. One marble piece graces its sculpture garden. Her large-scale bronze sculptures are the focal point for the GTE Data Services building in Tampa..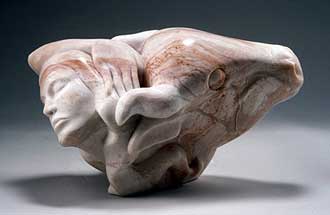 Europa and Zeus
Alabaster, 18"x9"x11"
This is a Greek myth showing Zeus as a bull, hiding from Hera his wife, as he carries off his human love Europa. From this union Europe was created or so the Greeks said.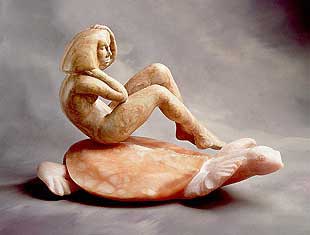 "Siren"
Two separate alabaster stones
22"x14"x15"
This mythical scene reminds me of the Egyptian sculpture of the pharoah astride the panther as he is carried into the underworld. This piece is much happier. Peacefully the giant turtle floats along the clouds with the muse upon his back. The name recalls the hypnotic music one would expect to hear.