The Oprah Heroes Show


Picking up the new 2012 VW Beetle
This is an update I sent to my support group
and also to VW of America: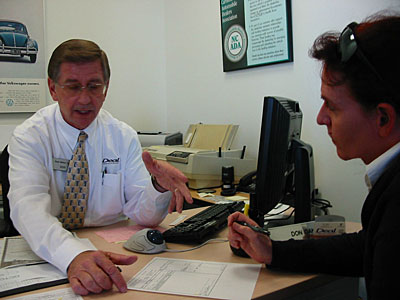 Kathy and I went to pick up my new Beetle at 2:00 at Deal Motor Cars in Asheville, NC. The local Asheville Citizen Times was there, but no TV crews, which was fine with me.



The sales people and managers at Deal VW were great to work with, and all were saying congratulations and smiling about how I came to have this gorgeous blue Beetle. All of them said how much they love the new design, and how amazing the technology and performance is on it.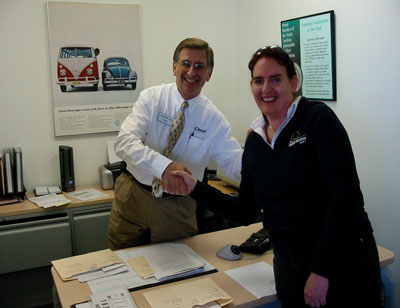 After I signed all the paperwork, the sales rep, Mark Kaye, went over the car with me, and all the cool things it can do. We then took it on a test drive, and it was really amazing to feel how powerful the car is. The folks at VW went and got my tag, and then I was ready to go!



Everywhere we went, people would stop and stare at this beautiful car, and then they'd come up and talk with us about it. I'd tell them the story of Oprah, and how I was nominated as a Hero, and flew to Chicago to find out that the Hero's show was actually Oprah's last Favorite Things show.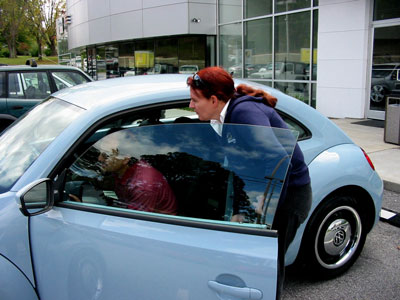 When we went to the bank drive-thru to make a deposit, the teller got so excited to see my new car, she had everyone in the bank come and look at it through the window. She kept saying, "I hope you don't have to sell this sweet car, because YOU DESERVE IT!!!"



We then drove the Beetle to Lowes to meet our Naturalpathic Doctor so that she could see the car. She started yelling and saying, "OH MY GOD, IT'S GORGEOUS!"



There were guys actually coming up to the car and taking photos of it in the parking lot, and an African American woman walked over and was amazed at the car. She said "That Oprah really knows how to do something right--this car is BEAUTIFUL!"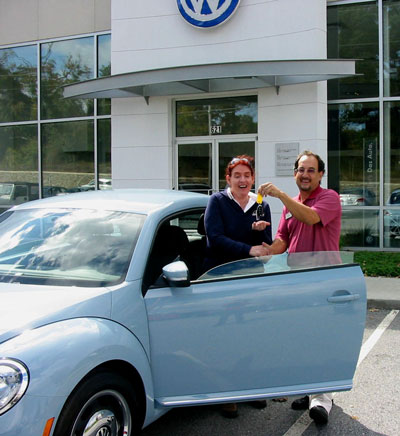 After that, Kathy and I went to Olive Garden to celebrate. Some of the wait staff were taking their breaks in the back of the restaurant, and all of them were staring at the car as we pulled into a parking place. I got out of the car and said, "I won this Beetle on Oprah and just picked it up from the dealership TODAY!" They all got so excited, wanting to know about the Hero's Show and how I'd gotten this car, that by the time we had walked around the restaurant and through the front door, every Olive Garden employee already knew about the car! They were asking us about it at the front desk, and going outside to look at it. One waiter actually came up to me while we were waiting on our meal and said, "It's so great to see someone who has really helped people actually get something back in return. You deserve this!"



We stopped by Earth Fare, a big health food store, and the guy ringing me out noticed my Oprah Hoodie. He asked about it, and as I was telling him about the car I'd won, the check-out guy in the next lane said, "You mean that light blue Beetle in the parking lot?" I said yes that's the one, and he replied, "SWEET CAR! I noticed it the moment I saw you drive by!!!" This guy noticed the car while he was inside the store working!


When we were heading back out to the parking lot, I saw one of the techs from our vet's office. I told her I'd just picked up the car I'd won on Oprah, and of course she wanted to see it right away! She was practically running to it through the parking lot, and she got so excited about seeing the new Beetle, that she jumped into it when I opened the door to show her the interior!



We then stopped by to see a friend of ours named Steve. He's the manager at a store called Amazing Savings. He came out to look at the car and said, "This car is so amazing, and it couldn't have happened to a better person! I'm so proud of you!" So sweet of him to say that to me.



We went to pick up some cat food at Pet Smart, and the woman who was ringing up my order saw that I was wearing my Oprah Winfrey Show hoodie. She asked me if I'd been to the Oprah show, and I told her about being nominated as a Hero by members of the support group I run, and how I'd won the VW Beetle on the last Favorite Things show. She said she has been working hard at doing something similar for animals, and just when she felt like giving up, someone would always come into her life who gave her hope. I told her "I've felt that way many times, but I never gave up. Don't give up, because you just never know when something amazing will happen to help you to accomplish your dreams!" She started crying then, and told me that I was the person who was inspiring her now.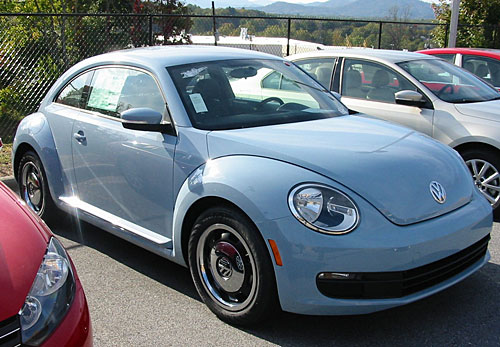 We then stopped at this convenience store where we know the people who own it. Two guys who had also stopped at the store started going around looking at the car while I was inside, they were loudly saying, "COOL BEETLE!!!" when I walked out, and going on to Kathy about how nice the new style was, and how much more they liked it than the old style. One gave me the high five when I told him about how I'd won it.



All this because people hear the story of my amazing time on the Oprah's Favorite Things show. This is the gift that just keeps on giving! It was one awesome afternoon for sure!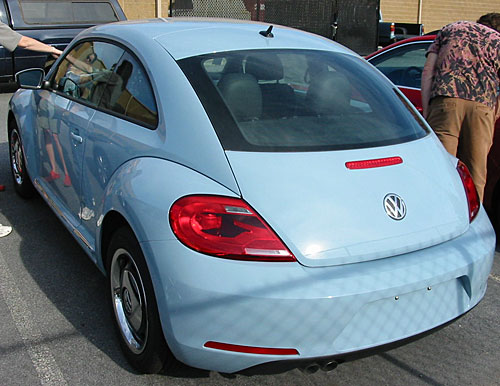 I'm a graphic/website designer, and I've got to say that VW working with Oprah to give her audience members this wonderful car was an incredibly smart way to market the new Beetle! What I found in just one afternoon is that this design is certainly is appreciated by both men and women, but I saw way more men flat-out staring at the car, pointing it out to whomever they were walking with, and loving the way the new design looks. I had a lot of compliments on the wheels especially, and how retro they look. One guy even got down on his knees and took photos of the wheels in Lowes parking lot!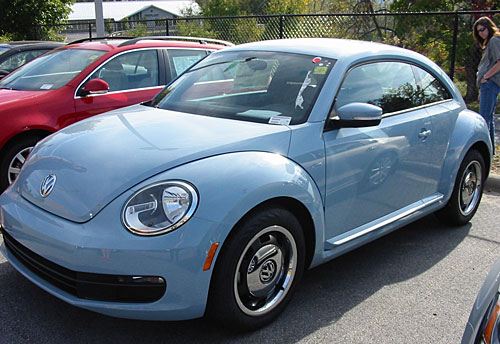 A lot of people also loved the color, saying that it reminded them so much of the very first Beetles they'd seen when the car first came out years ago. Everyone was also amazed at the interior and how roomy it is. I showed people the trunk area, which they were also impressed with the size, and the engine had them really excited, especially the box that the battery sits in. Some said it is like a velvet box! Every person was also AMAZED that VW paid for the taxes and the tag, which I made sure to tell every person I spoke to about that.



I've had a rough time the last few years, I lost several people in my life to untimely deaths, and my business took a very hard hit from the economy. I just wanted to say to both VW and Oprah, thanks so much for this wonderful gift! It's certainly giving me a lot of joy, and I sure hope I can keep it.



Sincerely,



Tracey Stevens