The Oprah Heroes Show


AKA Oprah's Favorite Things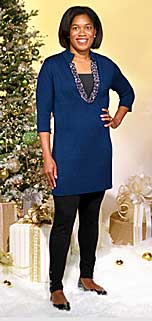 Oprah then talked about two groups of the heroes in the audience, "Cookie Baking Friends who help a different charity each month, to a teacher who funds scholarships for students, today is the day that you all get to receive with some of our most loyal ultimate viewers, my next pick is luxurious with a capital L," she said with a smile, and a model came out with Silk and Cashmere outfit from Magashonie.



Then Oprah talked about "A Favorite Things all star I've been using for more than ten years; it is Hope in a Jar from Philosophy. They make beautiful things...We all need a little hope it's hand-down the best moisturizer I've ever used. In honor of our 25th season, they've created this Limited edition box--that's Little Negro Me. I mean, Who would of known that when I took that in Mississippi in 1957 that I would be on the cover of a box for Hope In jar! That really should say "You've come a LONG way baby!"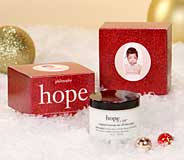 We got all three sizes of the moisturizer, and people in the audience were cheering. Coming from the South, I was surprised that Oprah used the word "Negro," because it is viewed as such a derogatory word. I figured it was about the same as gay people calling themselves slang terms like Homo or Queer, which takes the sting out of those words when used by other people. As I pondered the aspects of name calling and how words can be used against us, Oprah was moving on to the next Favorite Things.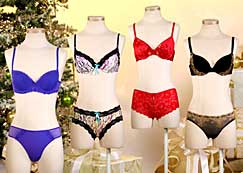 "If you watch this show, you know that I am passionate about the power of a good bra, and it is a sad realty that most women are wearing the wrong sized bra," she seriously said, and then she called out, "Work it bra ladies!"



Four models came out with Nordstroms bras and panties, and Oprah talked some more about being properly fitted for bras. She then said that Nordstroms wanted us all to have a $500 gift certificate for a Lingerie Splurge. Then she said for the 25th season, Nordstrom gave us all 2 gift certificates, so that we could take a friend shopping with us.



Oprah started singing "Deck the halls with Bras a Plenty!" and the snow started falling, the music started blasting, and the elves came running through the hallway right below me. They had the Magashonie Outfits and the gift bags from Philosophy. There was lots of screaming and everyone was really happy. Of course Barb and I were so high up in the studio, we didn't get the gifts that were given out for show, but it was very exciting to be there with all this energy going on.



We then had a break, where the stage was reset. A table was brought out, and three boxes were set on it from large to small, with two big presents stacked on top of each other on the far side. I could hear Oprah talking about her gold shoes she had on that looked like they had 5 inch spike heels. She was complaining about them saying things like, "I gotta say that I've got about 10 more minutes in these darned shoes!"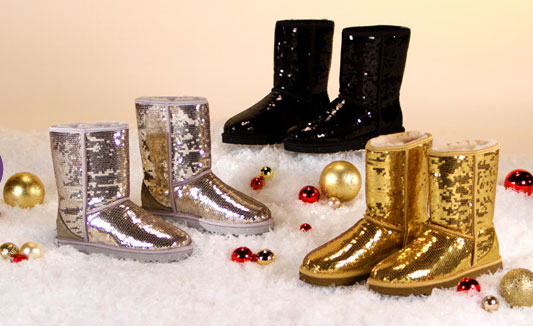 Some of us yelled, "Put on the Ugg Boots!" because even though they are sparkly and shiny with sequins, they sure looked comfortable. A couple of the women in the front of the audience started passing the boots the elves had handed out towards the stage, and Oprah started laughing saying, "There aren't any in the studio to fit my feet! I take a size 10, and Uggs didn't send us any that big!"



When Oprah could stand the foot pain no more, she went off stage and came back out with these little flat, gold-looking, slipper things, similar to what you see older women wearing sometimes. She wore these while the stage was being reset, and the next segment being discussed. After everything was set, she slipped her spiked shoes back on, and we were ready to film the next segment.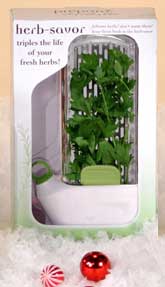 Oprah lined-up behind the smallest box on the table. She pulled it up and over the gadget that was beneath it, and sang, "So, on the Twelfth Day of Christmas, my true love gave to me, my next Favorite Thing. Before it came into my life, I'd been in an Herb Tizzy. I'd been asking everyone how to keep fresh herbs, including Martha Stewart herself. They only lasted a day or two," Oprah said and then looked out into the audience and asked, "Did you notice that? It is so hard to keep them before they wilted, until I discovered THIIIIIS! It's the Herb Savor by Prepara. You put basil, or any herb inside, and it will stay fresh for weeks! Now, this is the most exciting this to happen to me this year, really! It costs $29.99, and I've given them to everybody, whether they wanted them or not! And Gayle was like, 'What do you do with it????' IT'S A BASIL SAVER!!! SAVE YOUR HERBS!!!!" Oprah yelled while looking up at Gayle in the audience. "For $29.95 you all are gonna LOVE IT, I promise you!"



I turned around in my seat, and Gayle was laughing and nodding her head in agreement. Apparently she is kind of like me, not so great in the cooking department. I leaned over to Barb and said, "Kathy is going to love that thing!" as Kathy is the cook in our family, and a darned good one who uses fresh herbs all the time.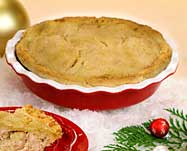 I then heard Oprah saying, "Gayle and I first discovered this next favorite thing when we were on Cape Code last year. Oh my goodness, it is the Centerville Pie Company's Chicken Pot Pie." She pulled the gift box up, and there was a big ol' pot pie in a red bowl sitting under it. "THIS is a CHICKEN PIE! It was love at first bite, and you don't have to go to Cape Cod to try it, because it is now being offered by Harry and Davids! You can order some and keep it in the freezer, and you will always have something Delicious for dinner. You get two pies for $40, so audience warm up your ovens, cause everybody gets CHICKEN PIE!!!"

To see how Oprah helped Laurie and Kristin, the owners of CenterVille Pie company, Click Here.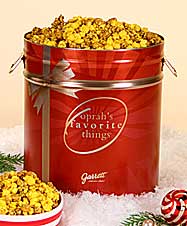 Oprah moved to the next larger gift and said, "OK, well here in Chicago, people line up down the block, no matter the weather, just to get a taste of this Favorite Thing!" Oprah slung open the box, and revealed a big red can with the Oprah's Favorite Things logo on it.



It was at that moment, that I started thinking, How in the heck am I going to get all this great stuff on the planes when I fly back to Asheville tomorrow morning? I knew I would not have time to make it to a Fed Ex to ship everything, and with baggage check-in prices at the airport, I sure as heck couldn't afford to fly it all down with me. Funny how the mind wanders to the logistics of things in the middle of something so over-the-top-fun, but that's just where my thoughts went when I saw that big red can.



"It's worth the line up--it's Garrats!" Oprah yelled, and I noticed her voice kind of cracked a bit.



I thought about the fact that she had been taping the first Favorite Things Show along with this one since 7:00 that morning, and surely her voice was getting a bit tired with all this excitement!



"It is the best popcorn on the planet, I think, and you don't have to fly to Chicago to get it; you can order it online from anywhere. This year Garrats has created this special, limited edition, Favorite Things Tin filled with their famous cheese and caramel. This 6.5 gallon tin retails at $135 and of course everyone's getting GARRATS!"



I was really happy about the popcorn from Garrats, because caramel corn is one of my favorite things too!

Oprah moved down to the biggest box, which was sitting on top of another present, and she was smiling and said, "OK, my staff has been buzzing about what's under this box for months. If you are a cook, you are going to love this. It's my favorite, and it was the great Julie Childs' Favorite too; OK take a look at thiiiis!"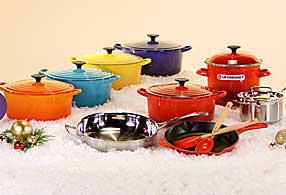 Oprah flipped back the box top, and the crowd went wild and jumped to their feet. I was trying to see what was under the box, which looked like a bunch of red pots. Again, I am not a cook, so I wasn't sure why everyone was screaming and jumping around. I glanced at the monitor, and I could see a close-up of the pots with Le Cruset labels on the side of one of them.



"Yes, it's Le Cruset famous cast-iron pots and pans, plus their new line of stainless steel cookware," Oprah explained. "They call this ten piece collection 'The Oprah Set,' and it retails for $599.00! So audience now your kitchen is complete because you are getting all of these in the color of your CHOICE!!!!"



Everyone was clapping and yelling again, and I was still shocked by how much these pots were, and then Oprah hollered, "OK KEEBLER HOLIDAY HELPERS, DO YOUR THING!!!"



The snow started again, people were clapping to the blaring Christmas music, Keebler elves came out in red sweaters and Santa hats carrying the Oprah popcorn tins and the Herb Savers, and the audience went wild! There was dancing and jumping around, and everyone was really happy.



Then there was a break so that the stage could be reset. The boxes and gifts from the previous take were removed, and a big box was brought in and placed on the table. Oprah left the stage for a bit, and when she came back out she asked us if we were having fun, and of course everyone yelled "YES!"



I started thinking about the fact that I had never felt this much ongoing happiness from both myself and the people around me in my entire life! I had gotten to a point where I really felt I couldn't feel much more joy--something that was surprising to me as I'd never gone to this level, but there was also a bit of sadness mixed in there too, because I would not get to speak about our coming out support group, and what it provides for women coming out worldwide. I was having some very mixed emotions.



"Now this next favorite thing might just be a Christmas Miracle. Ladies come on out; here they come!" Oprah said.



Four models came out wearing jeans, and Oprah continued with, "I give you the Miracle Body Jeans by Miracle Suit. Put them on and suddenly you look ten pounds thinner--I'm serious. Why? Because they have a secret panel that holds in your tummy, and look what the do for your butt!" She instructed the models to turn around, and we all got to look at their butts. "They come in four different styles and retail for about $100, so go ahead and have another handful of Garrats popcorn, because you are getting Miracle Body Jeans!"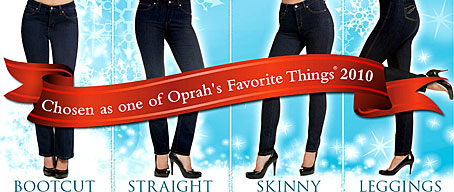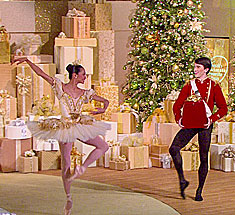 "Husbands, Boyfriends LISTEN UP, This next favorite thing will have our sweetie dancing for joy!"



The nutcracker music started up, and two ballet dancers came out from the side of the stage. The woman was dressed in a beautiful cream-colored ballet tutu, and the guy had on a red and black toy soldier suit. He was carrying a red box as the two of them danced across the stage.



"There we go!" Oprah said while looking at them. "Well what have we here? WOW, Why look! It s the Sugar Plum Fairy and the Nutcracker Prince from Chicago's Jodphrey Ballet! This favorite of mine is the Sophie Jewelry box From Pottery Barn. It is made of pebbled leather and has a mirror and three drawers built in. It comes in ivory, it comes in porcelain blue and red, and it costs $179--it's gorgeous; and I understand that you brought some extra sparkle?" Oprah asked the female ballet dancer. She nodded and opened the box. "You brought some extra sparkle? YES! and I shall show you what is in here--A little SPARKLE for you!!!"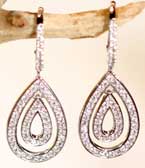 Oprah reached into the red box and took out something, and everyone started screaming. I wasn't sure what it was until I looked at the screen behind her. They were earrings. Oprah was smiling as she walked over behind a big present, and with her elbows on the box, she held the earrings up to her ears.



"They are Jessica Leigh Diamond Earrings by Dana Rebecca Designs. There are more than 100 diamonds in each pair. And they come in white, they come in rose or yellow gold, they retail for $1900, and every single person in this room is getting a jewelry box and Diamond Earrings TOO!!!"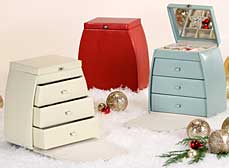 Oprah lifted up the box she'd been leaning on to reveal two of the jewelry boxes in pastel blue and ivory. People in the audience jumped up and were screaming and hugging each other. I looked at Barb and she seemed dumbfounded by everything that was going on. I was thinking about how the earrings are really beautiful, but I am not a diamond girl--picture jasper is my favorite stone, so I wasn't as excited and carrying-on like some of the women were.



"OK so we thought that, this group of givers would be the perfect bunch to receive my next very special Favorite Thing. Donors Choose is a fantastic organization and a super cool way to give. Public School teachers post their classroom wish list online, and generous people like you, donate to the classroom of your choose. That is a great Idea--Donors Choose. So listen to this, our friends at BING, are sending you home with a gift card so that you can start giving to Donors Choose, and for everyone of our viewers that go to our Bing.com/give, and clicks the donation button, BING will donate $1.00 to Donors Choose--up to 1 million dollars! SO THANK YOU BING!!! Isn't that wonderful?" Oprah asked the audience, and then she yelled "OK, KEEBLER HELPERS, BRING OUT THE UNCOMMONLY GOOD GIFTS!"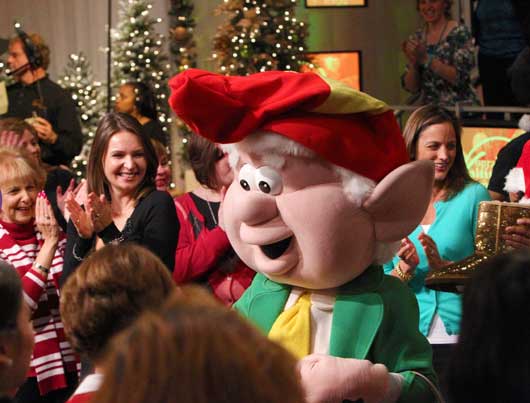 The music started up, the snow started falling, and Oprah hugged the two dancers. The elves came in with the jewelry boxes in the hall next to where I was standing. We were all clapping, and this is the only point in the whole taping that you can see me, from the neck down, clapping in the audience above where the elves came in.



Again, Oprah left the stage for a bit, and when she came back out she had a book in her hand. She told us she wanted to read a passage to us, and we all settled down in our seats to listen.



"This book has become so important to me, and I read it each and every day. It's called 'The Book of Awakening' and I'd like to read a passage from it called "A Moment of Dawn"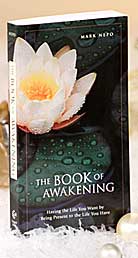 There's a sun in every person, the you we call companion. It is essential to realize and embrace the paradox that while no one can go through your journey for you, you are not alone. Everyone shares the same pains the same confusions, the same fears, which is you put out between us, loose their edges and so cut us less.



A very touching story from Thailand captures this soft paradox of how we all journey alone together. A Rabbi asks his students 'How do you know the moment of dawn has arrived?' After a great silence, one pipes up 'When you can tell the difference between a sheep and a dog.' The Rabbi shakes his head no. Another offers 'When you can tell the difference between a fig tree and an olive tree.' Again, the Rabbi shakes his head no. There are no other answers. The Rabbi circles their silence and walks between them, 'You know the first moment of dawn has arrived when you look into the eyes of another human being and see yourself.'
Oprah then said, "Well, there's your book reading from Oprah!" She got a bit serious and talked about how important it is to help each other, and to acknowledge what we are each doing in our lives. She talked about how every person she has interviewed in the last 25 years has always had the same same basic question--that everyone from Jane Fonda to Beyoncé has always wanted to know the same thing: "Did I do OK?"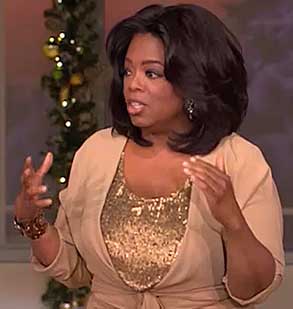 Oprah started talking about how important it is to always acknowledge that you are hearing what another person is saying, and that most every argument really boils down to one person wanting to make sure that the other person is actually hearing them, and respecting their beliefs and the right to say what they really mean, and be who they really are.


It was such a heartfelt and earnest message from her to us, that several of us in my area teared-up, and I passed the box of tissues around.



When Oprah spoke about how most everyone wants one thing, and that's to be heard. I really teared-up then, because even though I didn't get to speak about our coming out support group at the taping that day, I felt like I was heard and recognized for the volunteer work I've done to help women coming out worldwide, and I truly thank Oprah and her staff for including me in such an amazing way.



I cried on and off through most of the taping, because it was such an honor for all of us to be recognized for the work we do voluntarily. It was also such an honor that Oprah had actually heard what we needed to say, and in acknowledgment she had invited us to her last Favorite Things show ever. She said that she wanted to give a little back to the people who had been nominated as heroes by others in their communities.



I was really blown away just being around her--After seeing her TV persona for all these years, I just had no idea how truly caring and down-to-earth she truly is, and her entire staff was the same way.



During this time, the stage hands were moving stuff around and they set up a chair for Oprah to sit on. There was a little table next to the chair with the UGG boots hanging on the mantel behind her. Oprah had left the stage for a bit, and I figured her feet were about given out. She came back on the stage, sat down in the chair, and some kind of food on a dish was placed next to her.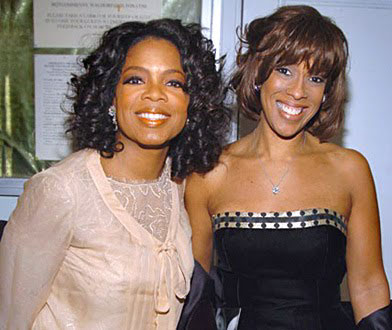 Gayle got up and sat back down a few times, and Oprah noticed her doing this and asked her from the stage, "Gayle, why are you so fidgety up there?"



"I'm worryin' that if the show goes on much longer, that I'm gonna miss my plane!" Gayle said.



"Girl! Why are you worrying about THAT? Don't you think that WE can get you out on another plane????" Oprah asked, and we all started laughing, because if there was anyone in Chicago who could get a person out on a flight, it would be Oprah.



The music "Favorite Things" started playing and Oprah started singing it. Her voice was cracking, and the audience joined in. The music faded and everyone sang the song acapella. It was an amazing, spontaneous moment that no one had planned to happen.



Oprah kept saying "VERY GOOD! VERY GOOD!" and then she smiled and said "OK, I didn't even ask you to do that! THAT'S VERY GOOD!"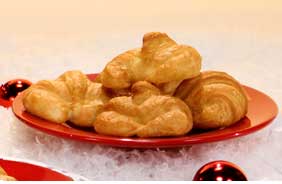 "Now you may have heard me rave about these cornucopias of delicious buttery, flaky goodness before, and some of you may have tried them. It's not the kind of thing you can do every day, but it makes your house smell like a holiday morning. They are Williams-Sonomoas Famous Croissants and they are FANTASTIC! You buy them frozen and you let them set out and they rise, and you put them in the oven in the morning. I'm telling you, I've never had a croissant that tasted better, other than Paris itself. So, this year we are featuring mini croissants so your guilt level is miniaturized. They are $39.95 for a box of 24, so they are worth it; they are special, and you can give them as a gift or receive them as a gift."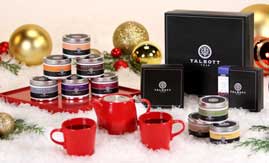 "Here's the perfect things to enjoy with your mini croissants, I love a beautiful tea--a spot of tea. This is the fabulous Holiday Favorite Assortment from Talbot teas. There are 10 different flavors. The reason I love Talbot is because they have so many wonderful flavors. Like Luscious Lemon Meringue Tea and Chocolate Almond Allure Tea. So remember that, it's the perfect gift to give to somebody where all the teas are assorted and beautifully named, and beautifully flavored with its own tea set. It retails for $150.00 but for you it's on the house. TALBOTS!"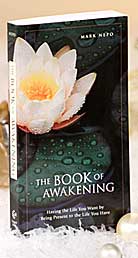 So after your tea-time, you might be ready for a little me-time. I was given this book as a birthday gift this year, and I started reading it every day. It is called The Book Of Awakening: Having the Life You Want by Being Present To the Life You Have by Mark Neepo. I do one lesson a day, every morning, and I would love to know that once you all get this book, that you all are doing a lesson a day, every morning, and if we all do it together, we can begin to open our hearts and change the world, and begin to have the life you want by being present in the life you have now. It's called The Book Of Awakening, the perfect gift for yourself and your friends."



The music started, and Oprah yelled, "OK, KEEBLER HELPERS BRING OUT THE GOODIES, and then you won't feel so bad!"



The elves came out and they had some gifts from the last segment, and also the croissants and some Keebler cookies. We all got to eat the croissants and cookies. The croissants were REALLY GOOD.



At this point we took a longer break. The stage was being cleared off, and then a baby grand piano was brought in and there were chairs being set up behind it. We were allowed to go to the bathroom if needed. Some people went, including Barb, but I didn't go. I was too busy eating the croissants and talking to the people that were seated behind us.



Those women seemed in shock--I guess we all were. We started discussing how in the world we were going to get everything home on the planes. I turned to them and said, "Well, maybe Oprah will give us a car and we can load it up and drive our gifts home," and thinking about those diamond earrings I added "SHOOT, maybe Oprah will give us a Porsche!" We all laughed about this, and talked about how amazing and unexpected the show was.



Barb came back, and Oprah came down from the stage and was sitting in the audience a row back from the front. Musicians came out and sat in the chairs behind the piano, and I wondered what was next.



The stage was now set up, and the stage manager and assistants were looking around the audience to make sure everyone had returned from their bathroom break. They absolutely would not start taping until everyone was back in her seat. Someone was still gone, so one of the assistants was sent down the hall to check on her. They came back a few moments later, and we were set to go.



The lights were lowered in the audience, and Oprah introduced Johnny Mathis. He came out, but then Oprah asked asked the stage manager to do a retake as she wanted to say a bit more about Johnny Mathis. I think she was too excited and didn't say what she wanted to say. They did a retake where Oprah said, "When I grew up there was only one Christmas album playing over and over again in my house, please welcome the legendary Johnny Mathis."



One thing I have to say right here is that at this point it was the ONLY time during the entire taping that they actually did a retake. For anyone who has ever worked in movies or TV, this is truly an amazing thing, as it is nonstop takes all day to get one small segment. That's how smooth and professional Oprah and her crew are.



If you've seen the Favorite Things Show, it is exactly how it was when we were there. There was no need for an Applause Sign, and no one ever told us when to cheer or clap. It was totally natural what was happening that day--the excitement and joy was totally real, and there was a lot of incredibly happy people at Harpo Studios, including Oprah and her staff.



Johnny Mathis came out and started singing "Christmas time is here, happiness and cheer, fun for all, the children call the favorite time of year..."



I heard people start screaming, and this voice came booming from the right side of the stage, "Silent night, holy night!" I recognized the voice before I saw Josh Groban. He sang the first part of Silent Night, and then Johnny Mathis started singing "Chestnuts roasting on an Open Fire," and the two of them did a duet. It was really beautiful, and Oprah looked thrilled out of her mind!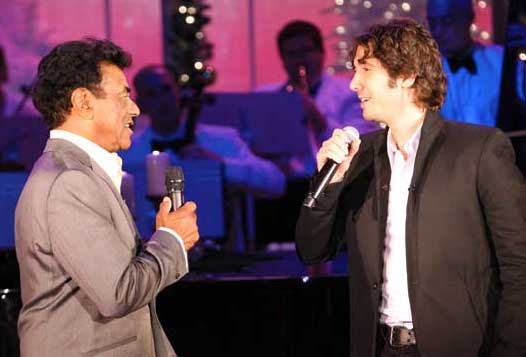 Click to See Johnny Mathis and Josh Groban's Holiday Duet

"Unbelievable!" Oprah exclaimed. "That has never happened before in the History of singing, Johnny Mathis and Josh Groban, my dream Christmas duet! THAT IS SOMETHING! And everybody is getting Johnny's Let It Be Me, and Joshes new album called Illuminations!" Oprah walked up on the stage and spoke to Johnny and Josh, "I have to say that this was my dream wish and thank you both for making it happen! Thank you for making it happen!" she kissed them both and looked really thrilled.



We then took a little break where it was explained that each singer was going to be filmed singing a song separate for Oprah.com. They each came out and sang, which you can their videos here:

Johnny Mathis Performs Crazy Video
Josh-Groban Performs Higher Window Video



Afterwards the stagehands started clearing off the stage. By then it was around 6:00, and I figured that they were clearing the stage for the next days filming. This took quite a long time, and at that point, I figured that the show was done, and that Oprah would come out and say good-bye, and it would be the end of a very wild and exciting day.



We were all sitting around and talking, and all of the sudden, I started hearing this beeping noise. The back of the stage opened up, and here comes Oprah sitting in a red VW Beetle being driven by someone dressed up like Santa! Everyone starts screaming, snow started falling, Oprah got out of the car, and, well, I hope you can see the video:Oprah's Final Favorite Thing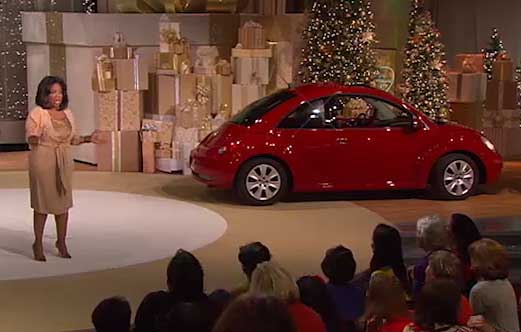 From Oprah's Website:
Volkswagen 2012 Beetle
Oprah personally owns a Volkswagen Beetle and says she loves to "toodle" around town in it. But this audience isn't receiving the classic model--they're getting the brand new, totally redesigned 2012 Volkswagen Beetle!



For only the second time in Volkswagen history, the iconic Beetle has been totally redesigned for 2012, inside and out. The project is so top secret, the only prototype of its kind was flown to Harpo Studios from Germany. No one outside of VW has seen the new Beetle, but Oprah was given special permission. "This is one powerful, sophisticated, sexy Beetle," Oprah says. "All of you in this audience will be the first people in the world to own one when it makes its debut next year!"



The new Beetle will not be revealed until May 2011, so Oprah gives the audience a sneak peek of the silhouette of their new cars: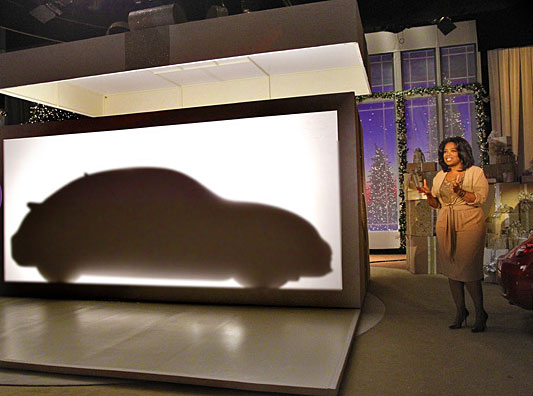 The Elves were now dressed in black VW T-shirts with the silhouette of the new VW, and they had lots of boxes that were handed out to the entire audience. Each box has a real blank VW Key. That's the one thing we got to keep that was actually given out during the show--well, besides the croissants and the cookies.



The music was blaring, the snow was falling, and lots of people were crying, including me. After they stopped taping, Oprah spoke to us for a few more moments. She was really excited about the car, and told us that the 2012 VW Beetle looks Like a Porsche. The women behind me grabbed my shoulder and asked, "Didn't you say PORSCHE???" I nodded my head because I was pretty much speechless by then.



Read about what happened after the show, and when I picked up the new 2012 VW Beetle!
The Oprah Heroes/Favorite Things Show: